International News
Andrew Tate's $5.2 million Bugatti Chiron and the Ferraris Seized by Romania after Allegations of Sexual Abuse
Andrew Tate is a controversial internet star. He was arrested in Romania last month when he accidentally gave away his location. The 36-year-old influencer was arrested for human trafficking. He was known for his lavish lifestyle, expensive cars, and sexist comments. Andrew Tate was trying to get away from the Romanian government, but he was finally caught when a video response to climate activist Greta Thunberg was made public.
Tate tried to show off his collection of gas-guzzling cars, but Thunberg embarrassed him with a simple tweet. Andrew Tate wasn't able to talk about his car collection at the time, but it's now in the news because Romanian authorities seized his and his brother Tristan Tate's luxury cars, including the popular $3 million Bugatti Chiron.
Romanian news site Spy news says that the police have taken over $5.2 million worth of cars, including a Bugatti Chiron, a Rolls Royce, two Ferraris, and a Porsche. Tate's most popular car is the Bugatti Chiron with a custom paint job. He was often seen driving this car in Dubai, Europe, and Romania.
The Bugatti Chiron is one of the cars that goes the fastest and costs the most. Tate owns a Pur Sport version of the Chiron, which is only made in 60 units. The fastest the Bugatti Chiron can go is 440 km/h. The car has an 8.0 L quad-turbocharged W16 engine, which helps it go from 0 to 100 km/h in just 2.4 seconds.
Andrew Tate was recently ordered a 30-day remand by the Romanian court and it is not yet known if the controversial celebrity will be out. Although Tate is currently in jail, his Twitter account is still active. 
WHO IS ANDREW TATE?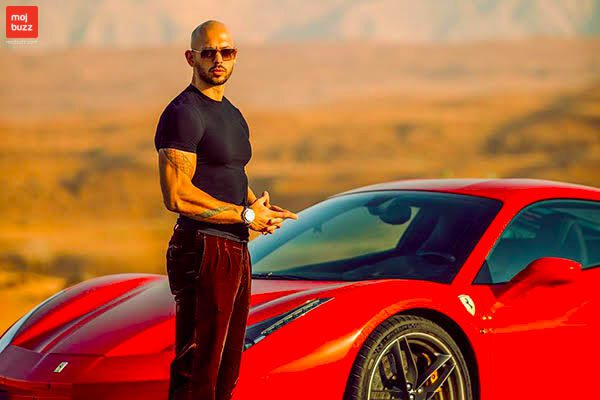 Andrew Tate is a British kickboxer who calls himself a "pick-up artist." In the early 2010s, he became known for his controversial ideas about relationships and dating. He has been called a "love guru" and a "dating expert," but he has also been criticized for encouraging men to treat women badly and take advantage of them.
Tate has been on a number of TV shows and taught seminars and workshops on how to get women to like you. But he has gotten a lot of criticism for his ideas and methods. He has been accused of promoting toxic masculinity and making women look like things. Because of his "violent and misogynistic" views, he was not allowed to enter the UK in 2017. Tate is still active in the community of pick-up artists, despite the controversy that has surrounded him.
Why is Andrew Tate got Banned from Social Media?
Andrew Tate was kicked off of social media sites because he broke the rules. It's not unusual for people to be banned from social media sites if they do things that are harmful or abusive to other people. It's not clear why Tate was banned, but it could have been because of his offensive and controversial ideas about relationships and dating.
Some people have said that he encourages manipulative and predatory behavior toward women. He has also been criticized for being part of the "incel" movement, which is a group of men who blame women and society in general for not being able to find romantic partners. It's not unusual for social media sites to take action against users who do things that are harmful or abusive to other people.
Also Read: Porco Galliard, The Jaw Titan Death? Who is he? Everything you need to know about AoT
Follow us on:
to Get Latest News, Entertainment, and Web Series Updates for Free
---
Click here to go to the Homepage
Keep Tuned with mojbuzz.com for more Entertainment