Here is a list of the best play-to-earn blockchain games, from Axie Infinity to CryptoBlades, that give users a rich gaming experience and many ways to make money.
Play2Earn's Pros and Cons
The gaming business could change for the better because of blockchain games. Through this technology, players who pay for these games or even just add to the gaming metaverse as free-to-play gamers can claim ownership of in-game items like trading cards.
The fact that players can trade and sell their in-game goods is what makes play2earn interesting and popular right now. So, users can earn NFTs and tokens as rewards on the GameFi sites. You can both buy and sell these tokens on platforms and use them in built-in markets. Let's look at a list of the best blockchain games that let you play to make.
Can you earn money to play NFT games?
At the time, many people who play blockchain games wanted the same thing: to make money. Even though there are different ways to do this, like finding rare items and selling them on secondary markets to get Ethereum or beating other players in PvP fights to get in-game currency, the goal is the same. Most NFT games, on the other hand, don't give out rewards in Bitcoin. Instead, they give out the game's own asset, which can then be sold on centralized exchanges (CEXs) for Bitcoin.
Short answer: yes, you could make a good amount of money playing NFT games. People in the Philippines can make a decent living playing Axie Infinity, but it now costs at least a few hundred dollars to start playing the most popular play-to-earn game, Axie Infinity, and new players need three Axies to get started. To start making money, you would have to get back your initial investment, which could take anywhere from 50 to 80 days. After that, based on their Axies, you could make anywhere from $8 to $40 per day.
Are any NFT games free?
Some of the games listed below, like Splinterlands, are free to play, but most of them require you to spend money to buy a starter pack or move on. Those who don't want to pay the money upfront will be glad to know that there are programs like Axie scholarships. Sponsors give "scholars" three Axies and work out a profit-sharing plan where players could get between 50% and 70% of the total profits.
List of Games that use Crypto Games
Here is a list of the best play-to-earn blockchain games, from Axie Infinity to CryptoBlades, that give users a rich gaming experience and many ways to make money.
Also Read: Top 5 Crypto Heists Ever! Biggest Blockchain Thefts of all Time
Top Blockchain Game — Axie Infinity
Axie Infinity is a game that will be seen by anyone who wants to learn more about the play2earn blockchain gaming world. It is the best play2earn game in the Philippines right now, and it has fans all over the world. To start playing, players need to buy three Axies, which are monsters. These can be bought from the game's built-in store. If a player doesn't have enough money to buy an Axie, they can choose a grant instead. The game has both a PvE mode and a PvP mode, but the PvP mode is more rewarding. You can buy, sell, and trade everything you earn in a game, even Axie Infinity Shards (AXS) and Smooth Love Potions (SLP).
Both AXS and SLP are very popular in South-East Asian countries, and the AXS-PHP and SLP-PHP pairs are some of the most traded ones.
CryptoBlades
Play2Earn games that take place in an RPG setting tend to become more popular. A new blockchain game called CryptoBlades lets players earn SKILL tokens by beating enemies, raiding with friends, and holding gains. Players can also make their own characters and tools to use against enemies or to sell on the in-game market. Before you can play the game, you have to buy a character. So, they have to pay a small amount of BNB to take part in fights. Battle fees are quickly given back to the winners as SKILL tokens.
Plant vs Undead
Tower defense games often have a lot of ways to play them again and again, and Plant vs. Undead is a play-to-earn game that tries to fill that niche. The game has become very popular in Brazil and other places where P2E games can make a big difference. Players can start playing by getting seeds, which can be bought on the market for PVU tokens. The free-to-play way is another choice. Check out our guide on how to play Plants vs. Zombies to learn more.
Also Read: The Legality of Bitcoin Mixers: An Overview of Laws and Regulations
Splinterlands
Splinterlands is a trading card game built on the Hive blockchain. It was inspired by games like Magic: The Gathering and Hearthstone. Players trade, buy, and sell collectible cards with the goal of fighting monsters and getting in-game prizes. The selling cards fall into different groups, called "splinters," that make up the game. Splinterlands players have seven stats: speed, armor, mana, and different types of attacks, such as ranged, magic, and fighting.
Quests, ranked play, and events are all ways to play. Splinterlands is built on the Hive blockchain, which is a web 3.0 blockchain that lets transfers happen quickly and for free, making it a great choice for blockchain games. The DAO governance token for the game is Splintershards (SPS), which is a BEP-20 token on the Binance Smart Chain. This lets players have a say in how the game and environment are run.
DappRadar says that as of October 31, 2021, there are more than 478K daily active users of Splinterlands. This makes it the most popular gaming DApp and the second most popular overall, after PancakeSwap, in terms of the number of users.
Farmers World
The idea of a game that lets you pretend to farm has become very popular over time. Farmers World is what this idea looks like on the play2earn blockchain. Players can choose from a number of tools to plant and gather crops. Players can also attack other farmers as they wait for their turn to gather.
The game also has a registration system based on cards that let players get more tools, energy, and other things. Before they can play, players need one tool that they can get from the FarmersWorld Collection store.
Forest Knight
People often dream of being a knight in beautiful armour who can fight evil as they grow up. Users of Forest Knight can make their dreams come true. Every "Hero" in the game has its own skills and weaknesses, so players have to mix and match to get the best results. The game came out in 2019, and it's still going strong today after a number of changes and improvements. Players get prizes for logging in every day and can earn NFTs as they enjoy the game's smooth gameplay. On the EnjinX network, there is an NFT market for the game.
Killa Koliseum
Killa Koliseum, which was still being built as of September 7, 2021, is a place where tactics are very important. There will be 10,420 NFTs, which will make the game a little harder to get into at first. Tournaments give players the chance to fight each other and win prizes. Players can get ETH from winning battles, selling Killas, or making and training new Killas every month to make a winner.
Also Read: Top 10 New Technology Trends in 2023
Elementos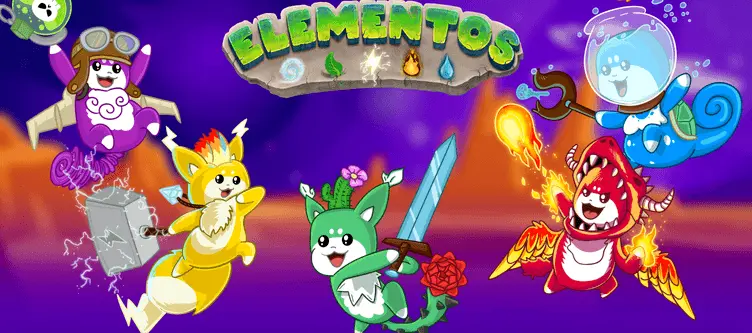 Elementos is one of the upcoming role-playing games (RPGs) in the blockchain gaming world. It aims to give players a more advanced turn-based battle universe. Players can play through the PvE or PvP modes to win tokens, get rewards, and breed pets. To play the game, players will need a Crystal Egg, which will go on sale on September 13d. Every Egg has one Mento inside. The team will also release the beta version of the game, which will have play-to-earn features for both PvE and PvP.
Dvision Network
One would think there would be more VR and AR games on the blockchain, but there aren't that many. For example, Dvision Network is a VR blockchain game that centers on its NFT platform. One mode is VR-Spaces, which can only be used by the player and people who pay for entry. The other mode is VR-City, which is a collection of VR-Spaces that anyone can use. The team also has a long list of things to do, such as getting pets, building new buildings, and making a mobile game.
Metalands
Blockchain games and first-person shooters with an open world don't often go together. Metalands has found a way to combine these things into a free-to-play play2earn game where players can earn CIFI coins. All in-game items are non-fungible tokens (NFTs), which players can easily buy, sell, and trade. Characters, guns, and bunkers can all be changed to make the game more personal. Soon, Steam will have a version of the game that lets people play it early.
Pet Games
The idea behind Pet Games is simple: to start discovering the game's ecosystem, players need to buy an egg or more than one egg from the market. To get the eggs, you need PETG money. Monsters can be fought every day. It's easier to fight weaker opponents, but the benefits are lower. Players can also grow plants on their land and pick fruit from them. On the market, you can sell any pet image.
IOS and Android Games List
GameFi developers are aware of this trend because 43% of all smartphone use is tied to games. This is even more common in developing countries like the Philippines, where many Axie Infinity players are trying to make a living by playing the game on their Android phones or computers.
DeFi in Crypto Games
Decentralized finance (DeFi) has brought in a lot of money—the total value locked (TVL) of the sector has grown exponentially to over $99B, and the total market capitalization of DeFi tokens is now over $146B—by presenting itself as the new frontier of finance and promising to replace traditional finance (TradFi) in the global economy.
Also Read: What are SaaS Applications? The Top 10 SaaS Applications: An Introduction to SaaS
Even though blockchain games are still in their early stages, they have the ability to really scale and bring cryptocurrencies to a large number of people. Right now, there are about 220 million cryptocurrency users, according to estimates. This could move faster with the help of DeFi. NFTs of in-game items and digital assets can be sold on decentralized exchanges for cryptocurrency to spend or swapped on exchanges for high-value assets like Bitcoin (BTC).
There are two sides to the story: making DeFi apps more like games makes it easier for new users to join the ecosystem. This is especially important if crypto is to become mainstream and reach people who didn't start using it right away. On the other hand, adding DeFi innovations and features to blockchain games lets developers create a more active in-game economy, which makes it easier for players to trade and do things together. So, it shouldn't be a surprise that even big names in DeFi are putting money into the play-to-earn market.
Cryptocurrency Role in NFT Games
There are more and more play2earn blockchain games to choose from today. Players can try out different types of games to see what the technology can do. Also, playing computer games for money is now something that billions of players can do. It's not clear if play2earn will change the way traditional games are played, but the new possibilities can be good for both players and developers.
Note: Denial of accountability! MojBuzz.com is a computerized aggregator across the world of media. All of the content material can be found free on the Web. We have now simply organized it in a single platform for academic objectives solely. In every content material, the hyperlink to the first supply is specified. All emblems belong to their rightful homeowners, all supplies to their authors. If you're the proprietor of the content material and are not looking for us to publish your supplies on our website, please contact us by e-mail – help@mojbuzz.com. The content material will probably be deleted within 24 hours.
---
Click here to go to the Homepage
Keep Tuned with mojbuzz.com for more Entertainment