Lifestyle
Getting Ready For Men's Short Hair Braids
Since there are no longer any hairstyles designed specifically for guys due to modernization, short hair braids are becoming a popular hairstyle for men. A protective hairstyle that spares you from having to comb your hair every day is braiding. If you want to try a new look, changing your style is very simple.
There are different ideas of braiding, such as cornrows or the ideal braids. If you are not a professional in braiding, you can get someone to help you, but you can do it on your own if you are confident in yourself. The braiding technique should represent your personality and the style you are going for. Here are steps on how to get ready for short hair braids for men process.
Washing Your Hair
First, wash your hair well before applying any hairdo. Using conditioner after shampooing your scalp can help keep your hair and scalp moisturized, which is important for healthy hair. You should make sure your scalp is clean by washing it with shampoo and rinsing it out with conditioner.
If you want to install braids for guys but your hair isn't naturally soft, you should think about using a moisturizing conditioner. To avoid harming your hair with products that have not been put through a safety test in a lab, you should read and comprehend the ingredients of the substances you use to wash it.
Certain inexpensive washing products can damage your hair since they may include unfavorable elements.
Detangling the Hair
After washing your hair with your preferred hair treatments, you must untangle it. It's crucial to detangle your hair before braiding it to reduce the chance of encountering knots while drying or braiding the hair.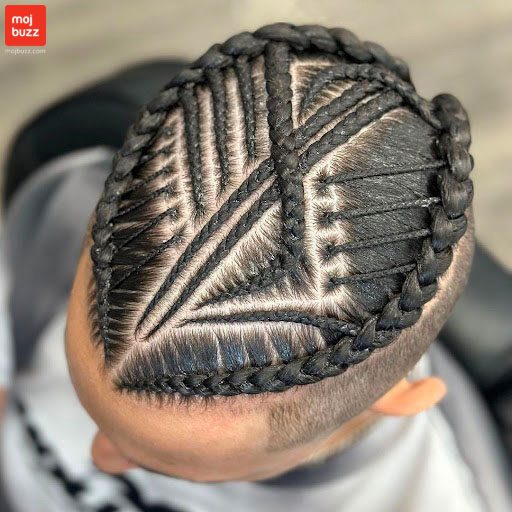 Also Read: Millie Bobby Brown Wiki | Age | Net worth | Bio: A Rising Super Star in Hollywood
Depending on the texture of your hair and how tangled it is, you can disentangle it with a brush or comb. Detangling your hair should be done gently to prevent breaking it.
Till you're satisfied the comb goes through smoothly, you should continuously but softly comb or brush the hair. This provides assurance that there are no remaining knots that can hinder the braiding procedure.
Create a Parting at the Center
You can separate your hair into two equal sections once you're certain there are no obstinate knots in it. To be more assured, you can easily do this with the teeth of your comb or a thin, straight tool.
To get the best results from the braid style for the males you choose, make sure the portion is simple. Your entire hairdo will suffer if you don't get the center parting just perfect because it impacts all of the braids on your head.
After you finish the phase, getting the remainder of the components may demand you to get an expert or any other support since doing it yourself may be tough.
Divide Your Hair Into Portions
Depending on the thickness of the braids you want, divide your entire head of hair into equal pieces.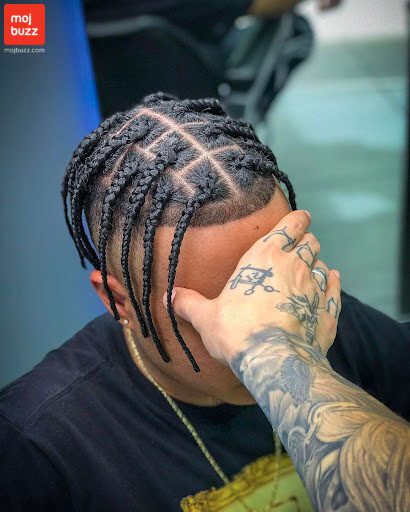 You should be aware that the hair in between each section is what actually forms the braids, therefore it must be roughly the braid size you desire. The sections determine how many braids you will ultimately acquire.
Moisturize Your Hair
You might need to hydrate your hair to keep it healthy because braiding will keep it locked in for a set amount of time. When dry hair is braided for an extended period of time, it may break, which is why you may notice some hair loss when you comb your hair after removing the braids.
Also Read: Kyla Weber's Wiki | Net Worth | Career | Who is She? Everything you need to know
Men's short braids are simple and smooth to put in because moisturizing also contributes to the softening of the hair strands.
Clip the Hair Into the Required Portions
Clip the hair that you are not working with to make braiding easier. For ease of work, focus on one section at a time. By clipping each piece, you can work on one braid at a time without the others getting in the way and prevent the portions from blending together.
Follow us on:
to Get Latest News, Entertainment, and Web Series Updates for Free
---
Click here to go to the Homepage
Keep Tuned with mojbuzz.com for more Entertainment