International News
RIP Twitter! Trending on Twitter. Musk fired half of Twitter's workers. Many of those who are still there are leaving in large numbers.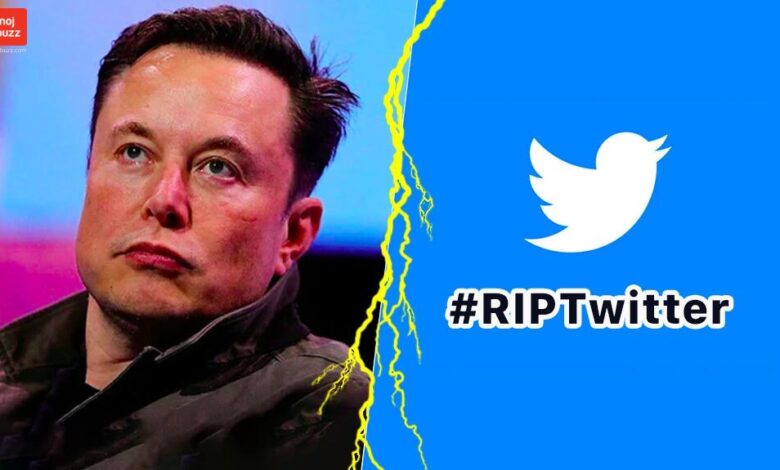 RIP Twitter! Trending on Twitter: Since Elon Musk took over Twitter last month, nothing seems to be going right, whether it's firing thousands of people and then asking some of them to come back or putting out a paid subscription service and then taking it back.
Musk gave Twitter employees an ultimatum: either commit to a "hardcore" Twitter or take three months' worth of severance pay and leave. On Thursday, a lot of employees left the company on their own.
According to news reports, most people chose the second option.
With the latest change, Twitter, which fired 3,700 workers the week Musk took over, will have a much smaller team than it did before.
In a poll on Blind, a workplace app that verifies employees through their work email addresses and lets them share information anonymously, 42% of 180 people chose the answer "Taking exit option, I'm free!"
A quarter of them said they chose to stay "reluctantly," and only 7% said they chose to stay because they were "hardcore."
RIP Twitter began trending soon after the news spread.
But Musk doesn't seem to care. He tweeted with confidence, "The best people are staying, so I'm not too worried."
He also wrote on Twitter that the number of people using Twitter had reached another all-time high.
The Angry-Angry Bird
Even though it was impossible to find out how many people quit, the reaction from employees shows that Musk's rules about long hours, not being able to work from home, and having to pay for your own coffee in the cafeteria did not go over well
Reuters said that after the employees quit, the company told them it would close its offices and stop letting them in until Monday. Reuters talked to a source who said that on Thursday evening, security officers were helping people leave the office.
How it Started
The Washington Post said that on Wednesday, Musk gave employees two options: either join the new "hardcore" Twitter or go home with three months' pay.
In an email, the new boss of Twitter asked workers to sign a promise if they wanted to keep their jobs.
"If you are sure that you want to be part of the new Twitter, please click yes on the link below," said the email, which also had an online form and officially ended Twitter's work-from-anywhere policy.
Musk wrote that anyone who didn't sign the pledge by Thursday at 5 p.m. US Eastern Time would be given a three-month severance package.
The Washington Post got a midnight email from Musk in which he said that Twitter would be run by engineers and that they "will need to be very hardcore." This means that you will have to work hard for a long time. A passing grade will only be given for outstanding work."
The Infamous $8 Twitter Blue
All of this is happening as Musk tries to make his first big change to a product since he took over last month. He wants paid verified accounts to start at $8 a month.
Elon Musk said on Wednesday that Twitter would relaunch the subscription service on November 29. He also said that unpaid, legacy blue ticks would be taken away in a few months if the account holders didn't sign up for Twitter Blue.
The first launch was canceled after several accounts paid for a "blue tick," posed as well-known companies and people, and then used the platform to cause chaos and spread false information.
Follow us on:
to Get Latest News, Entertainment, and Web Series Updates for Free
---
Click here to go to the Homepage
Keep Tuned with mojbuzz.com for more Entertainment