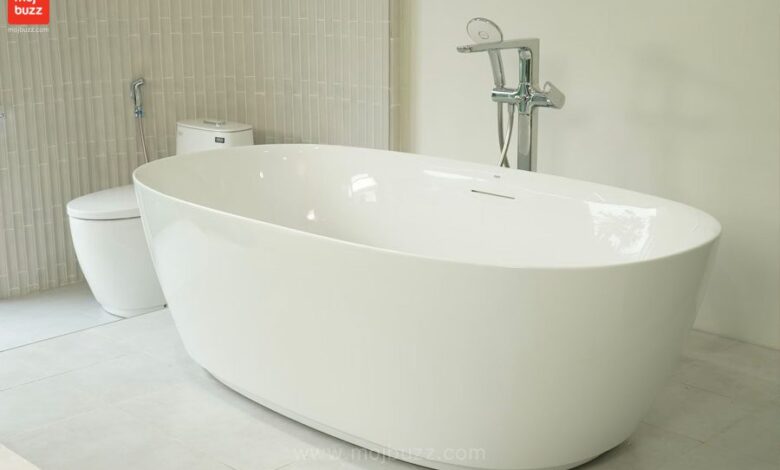 Countertops are the most common application for solid surface bathtubs can use the material to imitate a wide range of countertop materials, including granite, marble, and wood. Additionally, it comes in a wide variety of colours and textures, making it the material of choice for product and interior
Modern bathtubs are now made of the material, which was once only used to construct countertops. Solid surface bathtubs are relatively new, yet their appeal is gradually spreading. The following list of five factors explains why solid surface bathtubs are growing in popularity.
Non-Porous
One of the main advantages of solid surface bathtubs is how simple it is to clean them. This is caused by one of the material's inherent features. The non-porous nature of solid surface bathtubs makes it difficult for filth, grime, and other residue to conceal.
Mildew growth can be taken off your list of worries because the surface does not absorb moisture.
A modern bathtub made of this material will be very easy to clean, as was already said. It only requires a thorough scrubbing to be cleaned to remove all filth, grime, and soap scum.
Also Read: How to Attract and Retain Excellent Employees: Quality Over Quantity
The surface may occasionally become yellow after a few years. Use dish soap, baking soda, and bleach to clean it and restore it to its brilliant white hue. At the conclusion of cleaning, be sure to rinse everything thoroughly. The finished item would have a polished, smooth surface identical to when it was brand-new.
Durable
You won't need to be concerned about unsightly chipping if you choose a contemporary bathtub with a solid surface. This substance is sturdy enough to sustain small blows without disintegrating.
If you do manage to scratch it, it may be removed fast and simply with rubbing. Deep scratches can be fixed with the aid of matching filler material and a little light sanding. Without the aid of experts, the repair process is simple enough to be done.
Designers appreciate this material because it is available in a wide range of hues and textures. Designers can be more inventive with their designs because the material can be moulded into a multitude of shapes. Overall, this is fantastic news for customers who can look forward to more innovative bathtub designs. The exterior of the bathtub may also be readily painted to fit the colour scheme of your bathroom.
Bathtubs can now be found in a variety of other materials; wood or wrought iron is no longer the only options. Over time, bathtubs have changed from being a typical bathroom feature to more of a luxury requirement. The bathtub used to be placed in a private area of the home, but modern bathrooms are built with the bathtub in mind. Homeowners want bathroom bathtub design ideas that are not only cosy but also practical, opulent, and easy to keep clean.
Also Read: How to improve creativity while spending alone time with your partner
There are many different materials used to make bathtubs today. You can choose from any of them based on the hues, environment, or design of your toilet. Every bathtub can accommodate your needs for a bath, but only a select few of them will truly elevate your experience. While enjoying a bath in the bathtub is possible, the true issue arises when you have to keep it clean and maintained on a regular basis. Simply avoid them by choosing the proper material for your bathtub. These are the materials used to make bathtubs:
Wood: Bathtubs have been fashioned of wood for generations. In the bulk of Japanese and oriental toilet designs, they are also common. Although preserving wood takes a lot of time and effort, it works effectively in cold climates where water needs to be kept warm. If not taken care of properly, the humidity could cause it to grow mould and perhaps chip off.
Copper: Copper is a good material for baths. It is said to be healthy and adds a touch of luxury to your toilet. To keep it looking brand new for a very long time, you'll need to put a lot of time and effort into it. In addition, it is very expensive.
High-Quality Solid Surface: These solid surfaces, which mimic the look and feel of stone while being more durable, are made using stone resin blends. You can use them as a bathtub in your bathroom because they can be formed however you like. They are also simple to maintain.
For the construction of bathtubs, the best and most reliable material is thought to be a superb solid surface.
It is sturdy and long-lasting because resin and stone are combined. In addition, the sturdy surface material is hypoallergenic, form-resistant, water-verified, and can be thoroughly cleaned with standard toilet cleaners. They may easily be polished with sandpaper if they have stains or scratches. Selecting the sort of solid surface bathtub that best complements your bathroom's bathtub design is easy because they are available in a range of styles and colours.
Also Read: 6 common misconceptions about zero depreciation add-on coverage you should know!
Follow us on:
to Get Latest News, Entertainment, and Web Series Updates for Free
---
Click here to go to the Homepage
Keep Tuned with mojbuzz.com for more Entertainment