Biography of Arvind Kejriwal: Arvind Kejriwal is an Indian politician and a former revenue service official who is the current Chief Minister of Delhi. He is the social convener of the Aam Aadmi Party. His party AAP has rewritten the grammar of politics in Delhi after winning the 2015 Assembly elections, got a clear majority of 67 out of 70 assembly seats. He is the 7the chief minister of Delhi since February 2015. Check out below for Arvind Kejriwal Wiki, Biography, Age, Wife, Aam Aadmi Party, Achievements
Short Summary
Full Name: Arvind Gobind Ram Kejriwal
Born:16 August 1968
Birthplace: Siwani, Haryana, India
Father: Gobind Ram Kejriwal
Mother: Geeta Devi
Wife: Sunita Kejriwal
Son: Pulkit
Daughter: Harshita
Education: IIT Mechanical Engineering
Profession: Indian Politician
Citizenship/Nationality: Indian
Arvind Kejriwal Chief Minister of Delhi
Arvind Kejriwal is a social worker and the current Chief Minister of Delhi. Who is the 7th Chief Minister of Delhi? Arvind Kejriwal, who took an active step in Indian politics with Anna Hazare's 'Jan Lokpal Bill' movement, attracted the attention of the whole country and after this movement formed his own political party named 'Aam Aadmi Party (AAP), Whose president is also Kejriwal.
Arvind Kejriwal Early Life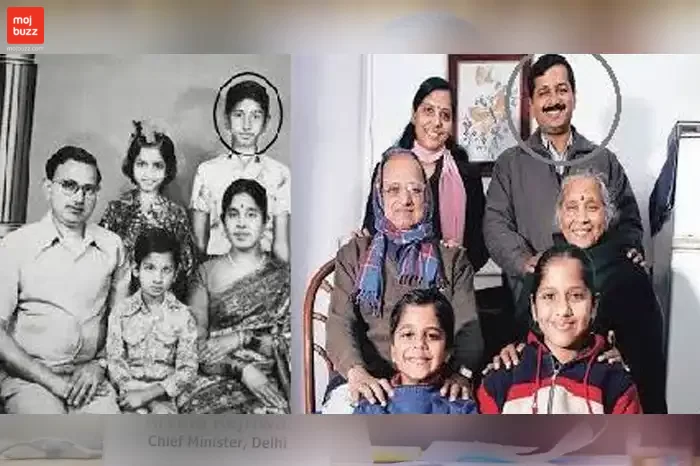 Kejriwal was born on 16 August 1968 in Siwani village of Hisar district of Haryana state. Govind and Geeta Kejriwal are his father and mother. He is the eldest of three siblings. His father was also an engineer. Who took a degree from Birla Institute of Technology and Science in Pilani. Arvind's childhood was spent in Sonepat, Mathura, and Hisar. Arvind Kejriwal Biography in Hindi
Also Read: iPhone 14 Rumored Release Date, Price, New Display with Small Notch, and all the Latest Leaks
Education (Arvind Kejriwal Education)
Arvind was a student of the Campus School located in Hisar and then the Christian Missionary School located in Sonepat in his childhood, he completed his schooling from here. He obtained a degree in Mechanical Engineering from IIT Kharagpur in 1989 and later he also registered his success in the Union Public Service Commission (UPSC) and was appointed to serve as an IRS officer.
Personal Life (Arvind Kejriwal Married Life)
Arvind is married to Sunita, who is herself an IRS officer. And at present, there is an additional commissioner in the Income Tax Department. The couple has two children, a daughter Harshita and a son Pulkit.
Arvind Kejriwal Starting Career
He started his career with Tata Steel in 1989 after earning a degree in Mechanical Engineering from IIT Kharagpur. His posting was done in Jamshedpur. After working here for 3 years, he gave his first resignation in 1992, so that he could prepare for the civil service.
Arvind Kejriwal was appointed Joint Commissioner in the Income Tax Department in 1995 after passing the Civil Services Examination. He held that position and did his work with utmost sincerity. Arvind Kejriwal believed that if any person works honestly and truthfully in the Income Tax Department, then everyone supports them, but they're too corruption started spreading its roots.
Arvind Kejriwal should get all the salary he got in his 18 months and the holidays that follow, which completes 3 years. It had been a long time since these differences. After this Arvind Kejriwal quit his job by taking a loan from some of his friends and giving some money to the administration.
In 2003, he again joined the Income Tax Department and worked for about 1 year and 6 months, he again resigned from the job to improve the corruption situation of the country. He then joined a completely transformative organization.
After seeing the increasing corruption in the country, Arvind Kejriwal raised the issue of RTI by bringing it to the public. Under which the people of the country had the right, that they can answer questions from the government regarding any work being done in the country.
Arvind Kejriwal Social Work
He supported him under the leadership of Anna Hazare to get the Jan Lokpal Bill passed. There was absolutely no awareness about RTI among the people of the country. Arvind Kejriwal did the work of spreading it among the public. A different light had awakened in his heart to do social work.
During that time, along with veterans like Shanti Bhushan, Prashant Bhushan, Santosh Hegde, and Kiran Bedi, spread this movement across the country. During this, he did not even know when he decided to wear a political cloak, leaving the social cloak. Arvind Kejriwal said that it is also the work of the countrymen to clean this mud. Therefore, along with the movement, healthy active politics is also needed.
Political Career (Arvind Kejriwal Political Career)
He chose a different path from Arvind Kejriwal than Anna Hazare and completely separated from him, making his own path. But till now Arvind Kejriwal was completely occupied by the political circle. In the meantime, he formed his own political party 'Aam Aadmi Party (AAP) in 2012 to commemorate the birthday of Mahatma Gandhi.
Also Read: 'If I Die Under Mysterious Circumstances, Nice Knowing You' – Tesla CEO Elon Musk
Kejriwal became the Chief Minister of Delhi (Kejriwal Became First Time CM of Delhi)
In the Delhi elections held in the 2013 Delhi Assembly Elections, he contested and his opponent was the then Chief Minister Sheila Dikshit. In this election, Kejriwal defeated Mrs. Dixit by 25864 votes. In this election, Aam Aadmi Party registered a good victory in Delhi.
The common man won 28 out of 70 seats in Delhi. In this election, BJP emerged as the second largest party while Congress remained at 3. Later Arvind Kejriwal became the Chief President of Delhi under the leadership of the Aam Aadmi Party. Kejriwal was the Chief Minister of Delhi for 48 days in the first term.
Became Chief Minister of Delhi for the third time (Kejriwal Became Third Time CM of Delhi)
In the Delhi Assembly Elections 2020, Arvind Kejriwal became the Chief Minister of Delhi with a majority for the third time on 16 February 2020.
Controversy (Arvind Kejriwal Controversy)
Aam Aadmi Party leader Arvind Kejriwal, while releasing the party's manifesto, made a statement that no Hindu is going to vote for the Congress. It is only Muslims who are saving the party. Congress leaders did not like this statement of Arvind Kejriwal at all.
Sandeep Dikshit is one of the senior leaders of Congress. He has filed a complaint about this controversial statement of Arvind Kejriwal. Why has Sandeep Dikshit in his complaint also demanded against Kejriwal, that Kejriwal is seeking votes to win elections on communal lines and dividing people on the basis of religion.
Along with this, the Congress State delegation has also demanded from the Election Commission that in view of such inflammatory speeches by Arvind Kejriwal on the division of community, casteism, and religion, his campaign should be stopped in all the states.
Arvind Kejriwal's Books
Awards and Honors (Arvind Kejriwal The Honor)
In 2004, he was awarded the Ashoka Fellow Award for Social Participation.
In 2005, IIT Kanpur was awarded the Satyendra Dubey Memorial Award for bringing transparency to the government.
In 2006, he was awarded the 'Raman Magsaysay Award'.
In 2009, he was awarded Distinguished Student Leadership at IIT Kharagpur.
Also Read: New PS5 Model Just Dropped – The Worst Play Station or The Best? Will it Solve the Console's Biggest Problem?
Timeline
Political Timeline
| | |
| --- | --- |
| 2015 | He led the AAP party to a Glorious victory in the 2015 Delhi Assembly elections and took oath as Delhi's chief minister on 14 February 2015. |
| 2014 | He contested in 16th Lokasabha Election from the Varanasi constituency against the BJP prime ministerial candidate, Narendra Modi, and lost by a margin of around 370,000 votes. |
| 2013 | The Kejriwal-led AAP party made its electoral debut in the 2013 Delhi Legislative Assembly election, where it emerged as the second-largest party, winning 28 of the 70 seats. With no party obtaining an overall majority, the AAP formed a minority government with conditional support from the Indian National Congress. Arvind Kejriwal swore as Chief Minister of Delhi on 28 Dec 2013. It had been in power for 49 days till Kejriwal resigned from the post in Feb 2014. |
| 2012 | Arvind Kejriwal launched Aam Aadmi Party. It is an Indian political party, formally launched on 26 November 2012, It came into existence following differences between the activists Arvind Kejriwal and Anna Hazare regarding whether or not to politicize the popular India Against Corruption movement that had been demanding a Jan Lokpal Bill since 2011. Hazare preferred that the movement should remain politically unaligned while Kejriwal felt the failure of the agitation route necessitated a direct political involvement. |
Early Life
| | | | | |
| --- | --- | --- | --- | --- |
| 2012 | He published a book called Swaraj which discusses his views on corruption and the state of the Indian democracy. | | | |
| 2006 | He resigned from his job as a Joint Commissioner in the Income Tax department and created a corpus fund with the award money and founded the NGO Public Cause Research Foundation. | | | |
| 1999 | Kejriwal founded Parivartan, an NGO aiming to assist citizens in electricity, income tax, and food ration-related matters. | | | |
| 1995 | He married Sunita his 1993-batch IRS officer. | | | |
| 1993 | He cleared the Civil Services examination and joined the Indian Revenue Service. | | | |
In conclusion, here completing the Biography, Age, Wikipedia, Family, Caste, Height, Weight, and More. Go to MojBuzz Biography to know more about famous celebrities' profiles. If you have any corrections or feedback on the above post then please feel free to Reach Us.
Follow us on:
to Get Latest News, Entertainment, and Web Series Updates for Free
---
Click here to go to the Homepage
Keep Tuned with mojbuzz.com for more Entertainment