News
Big Bull Rakesh Jhunjhunwala Dies at 62, PM Modi, Nirmala Sitharaman, Gautam Adani, and others pay their respects.
This morning, Rakesh Jhunjhunwala Dies at 62 in Mumbai. He was not keeping well for the past few days and passed away today at Mumbai's Breach Candy Hospital, according to the news agency ANI. His wife and three kids are left behind. Son of an income tax officer, Jhunjhunwala started his journey in stock markets while still in college with a capital of just ₹5,000, and when Sensex was at ₹150. According to Forbes, Jhunjhunwala, known as "India's Warren Buffett," had an estimated wealth of over 40,000 crores.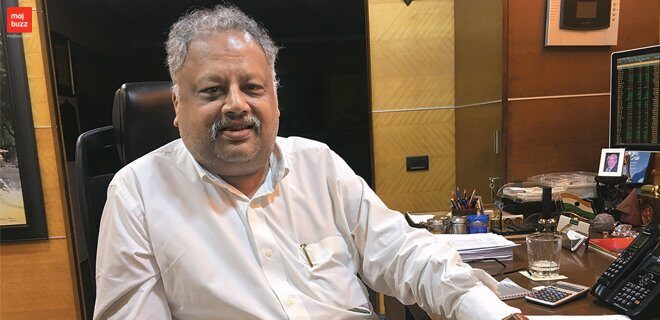 "Rakesh Jhunjhunwala was indomitable. Full of life, witty and insightful, he leaves behind an indelible contribution to the financial world. He was also very passionate about India's progress. His passing away is saddening," Prime Minister Narendra Modi tweeted sharing a picture with him.
Home Minister Amit Shah, Defence Minister Rajnath Singh, and Finance Minister Nirmala Sitharaman also paid their tribute on Twitter.
Top business leaders also took to Twitter to pay their tributes to the 'Big Bull' lauding Jhunjhunwala's legacy and calling him an 'inspiration'.
Also Read: 46 Starlink satellites on Falcon 9 launched by Elon Musk's SpaceX
Who is Rakesh Jhunjhunwala?
Investor Rakesh Jhunjhunwala has the Midas touch. He was 62. Many people referred to Jhunjhunwala as India's Warren Buffet. He was a trader and also a chartered accountant. Jhunjhunwala is ranked as the 36th richest man in the country on Forbes' Rich List. He is on the boards of directors for companies like Viceroy Hotels, Concord Biotech, Provogue India, and Geojit Financial Services. He is the chairman of Hungama Media and Aptech.
How Rakesh Jhunjhunwala became the successful Dalal street businessman
Jhunjhunwala started dabbling with the stock market when he was in college. He enrolled at the Institute of Chartered Accountants of India but after attaining the degree, he decided to plunge headlong into the Dalal street. In 1985, Jhunjhunwala invested Rs 5,000 as capital. By September 2018, that capital had inflated to Rs 11,000 crore.
Jhunjhunwala's developed an interest in the stock market after listening to his father discuss it with his friends. Quoting his father, Jhunjhunwala said his father told him to read newspapers regularly as it was the news that made the stock market fluctuate. While his father allowed him to dabble with the stock market, he refused to give him financial aid and forbade him to ask friends for money.
But Jhunjhunwala was a risk-taker right from the start. He borrowed money from his brother's clients and promised to return the capital with higher returns compared with bank fixed deposits.
When he bought 5,000 shares in Tata Tea in 1986 for Rs 43, the price jumped to Rs. 143 within three months, and he made his first significant profit. He profited more than three times. He earned 20 to 25 lakh in three years.
Jhunjhunwala made profitable investments in Titan, CRISIL, Sesa Goa, Praj Industries, Aurobindo Pharma, and NCC over the years.
His stock prices decreased by 30% following the worldwide recession of 2008, but by 2012 he had recovered from the setback.
Also Read: Top 5 Highest-Paying Jobs for People with No Experience
Personal Life and Education of Rakesh Jhunjhunwala
On July 5, 1960, Jhunjhunwala was born. He was raised in Mumbai, where his father was a tax officer sent to the city. When he received his diploma from Sydenham College in 1985, he enrolled in the Institute of Chartered Accountants of India. Rekha Jhunjunwala, another stock market investor, is his wife.
Jhunjhunwala's Investments
Jhunjhunwala runs a privately-owned stock trading firm called RARE Enterprises. He has financial stakes in a variety of companies, including Titan, CRISIL, Aurobindo Pharma, Praj Industries, NCC, Aptech Limited, Ion Exchange, MCX, Fortis Healthcare, Lupin, VIP Industries, Geojit Financial Services, Rallis India, and Jubilant Life Sciences.
Rakesh Jhunjhunwala's Net Worth
Jhunjhunwala is the 36th richest man in India, with a net worth of $5.8 billion, at the end of the June quarter.
---
Keep Tuned with mojbuzz.com for more Entertainment news.