News
A Youth from Gujarat Spends Two Lakh Rupees to Customize His Jaguar Car on the Theme of "Har Ghar Tiranga"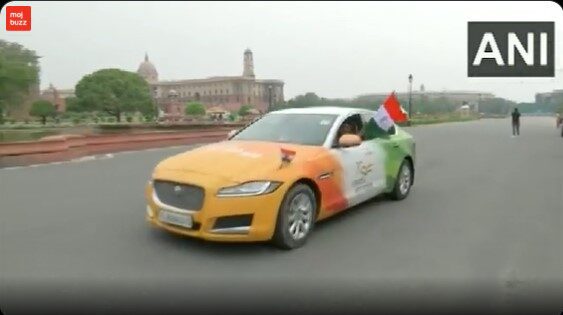 A man in Gujarat spent Two Lakh Rupees to modify his luxurious Jaguar car and paint it in the National Flag colors, to make people aware of the 'Har Ghar Tiranga' campaign.
Sidharth Doshi from Gujarat modified his vehicle in accordance with the "Har Ghar Tiranga" campaign and traveled about 1,300 kilometers in two days from Surat in Gujarat to Delhi.
Also Read: Big Bull Rakesh Jhunjhunwala Dies at 62, PM Modi, Nirmala Sitharaman, Gautam Adani, and others pay their respects.
In the video posted by the news agency ANI, the man was seen driving close to the Parliament while his passenger waved the National Flag on the car's bonnet, 'Azadi Ka Amrit Mahotsav' can be seen written.
Mr. Doshi said, "To make people aware of the campaign I drove from Surat to Delhi in my car in two days." He further said he wants to meet Prime Minister Narendra Modi and Home Minister Amit Shah.
The man continued by expressing his admiration for the "Har Ghar Tiranga" initiative of Prime Minister Narendra Modi. He has asked for a meeting with Amit Shah and Prime Minister Modi.
Prior to the nation's 75th Independence Day, Prime Minister Narendra Modi launched the "Har Ghar Tiranga" (Tiranga in every home) campaign in an effort to take the spirit of patriotism to the highest level.
---
Keep Tuned with mojbuzz.com for more Entertainment news.