Entertainment
Aamir Khan's Laal Singh Chaddha Movie Review. Is it worth watching the movie or another Bollywood disaster?
On August 11, Laal Singh Chaddha opens in theatres. It is an official Forrest Gump version in Hindi, starring Tom Hanks. According to our evaluation, if you can get that thought out of your head, you might actually like the movie.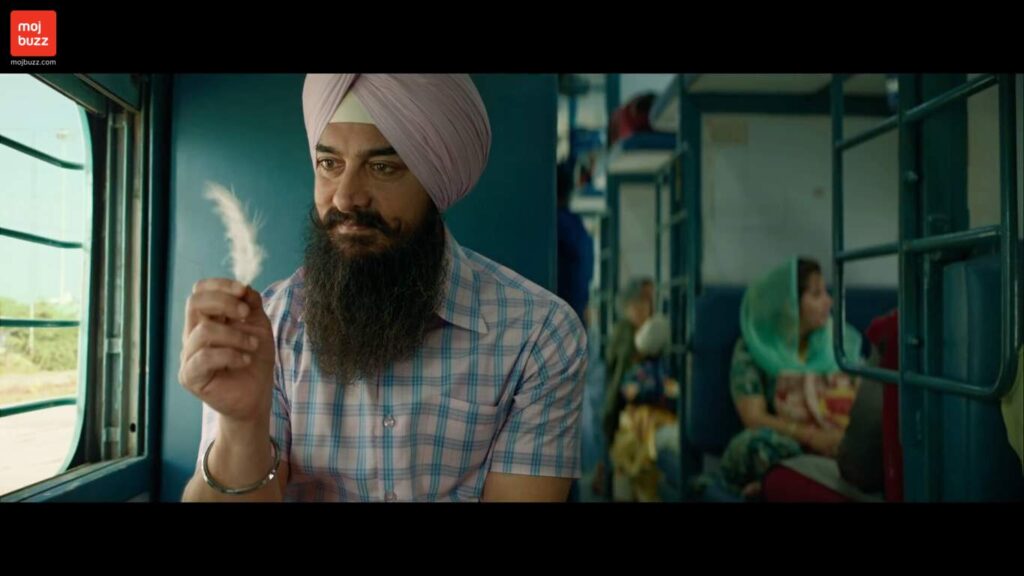 Movie Name: Laal Singh Chaddha
Cast: Aamir Khan, Kareena Kapoor Khan
Director: Advait Chandan
MojBuzz Rating: 3.5/5
Story & Screenplay
It wouldn't have been easy to adapt a Vietnam War-themed Hollywood drama from 1994 into an Indian tale that unfolds over several decades. Nevertheless, screenwriter Atul Kulkarni does a respectable job of handling it, giving actor Aamir Khan enough room for the emotional maneuvers needed to flesh out a nerdy but brash man coming to terms with the complicated world around him without ever losing his innocence, optimism, or chutzpah.
Aamir Khan's movie Laal Singh Chaddha is said to be a remake of 1994 Tom Hanks starer Hollywood blockbuster Forrest Gump. Is it true though? Forrest Gump is an enchanting and creative parable about a contemporary holy fool. The film was a multiple award-winner, garnering 1994 Oscars for Best Picture, Best Actor (Tom Hanks), Best Director (Robert Zemeckis), Best Visual Effects, Best Editing, and Best Writing based on material from another medium (screenplay by Eric Roth based on the 1986 novel by Winston Groom).
Beautifully helmed by Advait Chandan, the film Laal Singh Chaddha is unmistakably not a remake of the Tom Hanks-starring Forrest Gump from 1994. A basic adaptation of Eric Roth's original storyboard, this movie effortlessly fits within India's history, culture, and tradition despite the fact that the creators have formally acquired the rights from the original studios.
Watch the trailer of Laal Singh Chaddha here:
Unlike Forrest, Laal is on his way to meet Rupa (Kareena Kapoor Khan, who played Jenny in the original) when we first meet him. The shot moves up from his scuffed-up shoes to his smiling face and bright eyes.
The seat in front of him is occupied by a woman who lugs her suitcase in. Laal barely looks at her, and instead, digs into a box of golgappas he is carrying for Rupa. Paani alagse. And then he grunts. It is at that moment you know that the next almost three hours are going to be quite an effort.
Laal Singh Chaddha, largely adheres to the original source material. Shoutout to author Atul Kulkarni for everything from the feather at the top to Laal's "magic shoes" as a youngster, jaadoo ke jute in this, to the metaphorical "running" across the pages of history. I don't mind that golgappas have taken the place of the chocolate box; in fact, I'd say it adds a nice touch of Indian flavor. Despite the fact that the shift in emphasis from "you never know what you might obtain" to "your heart will always want more" is itself a sign that we will leave with an increased desire.
However, not all of Atul and Advait's original ideas are adopted. As Laal's mother, Mona Singh suffers from a poor adaptation. Laal Singh Chaddha, a typical Maa funda who protected her son from the communal riots that tore apart India in the 1980s and 1990s by teaching him that "desh mein malaria faila hua hai," undermines the zeal and confidence she instills in Forrest. Although they do eventually tie it up with one of the movie's most realistic lines, "dharam se malaria failta hai," it came far too late and left us bored.
Kareena's Rupa, who was derived from Robin Wright's Jenny in the original, was possibly the starkest example of the Indianization the plot underwent. It seems as though the filmmakers were aware that Jenny wouldn't be able to win over the public in her first form. She was essential "vegetarianism" to make her more likable. Jenny's 1970s-era craziness, which was propelled by Flower Power, has been reduced to a defenseless lady being imprisoned in Dawood's 1990s-era Bollywood. It is not a horrible cliche, interwoven with a tryst with physical abuse she witnessed being inflicted on her mother as a young child. Kareena also looks better than Aamir, who is still grunting, thanks to her smooth performance.
Overall
In a nutshell, Aamir Khan-Kareena Kapoor's Film Leaves You with Tears, Smile, and a Reflective State of Mind. Laal Singh Chaddha is definitely worth watching in the theatres. There are flaws, it isn't entirely great but a beautiful story, full of emotions, and strong performances altogether makes Laal Singh Chaddha a do not miss.
---
Keep Tuned with mojbuzz.com for more Entertainment news.