Events & Quotes
10 of the Most Inspirational Andrew Tate Quotes. Andrew Tate's Encouraging Words
Who is Andrew Tate?
Emory Andrew Tate III is a well-known businessman and kickboxing world champion who thinks of himself as a modern-day Batman.
Tate is known for his expensive cars, like Bugattis and Lamborghinis, and his expensive dating life. A lot of his funny and controversial quotes are about how much money he has and how he lives like a playboy.
Andrew has millions of fans on social media sites like TikTok, Twitter, and Instagram, where he goes by the name "Cobra Tate." He is often talked to on YouTube and podcasts. Tate was a contestant on the UK's Big Brother 17 in 2016.
Andrew Tate made a one-hour-long speech to explain what happened after he was banned from social media for the last time. He was for a while the most Googled person in the world.
Andrew and his brother Tristan Tate run several businesses in Romania, where Andrew lives. Emory Tate Jr., who died, was a great chess player and their dad. Janine Tate is the younger sister of Tristan Tate and Andrew Tate.
In December 2022, he and his pen pal Greta Thunberg got into a fight on Twitter, and he and his brother were arrested on charges of trafficking people.
10 Inspirational Andrew Tate Quotes
Find your motivation with the help of Andrew Tate quotes and encouraging words. Ready to be inspired? Read through 10 of the most inspirational quotes, only from the renowned entrepreneur!
"I don't need to be motivated because I'm a disciplined person. If I allocate X amount of time to do something, I'm going to do it."

— Andrew Tate
Also Read: Andrew Tate's Super Cars Collections! How many cars does he have? Bugatti, McLaren, Ferrari, Lamborghini, Aston Martin, etc.
"Every action you take is molding who you are as a person. Every time that you sleep in. Every time you are undisciplined, you are training yourself that it's okay. A downward spiral towards mediocrity."

— Andrew Tate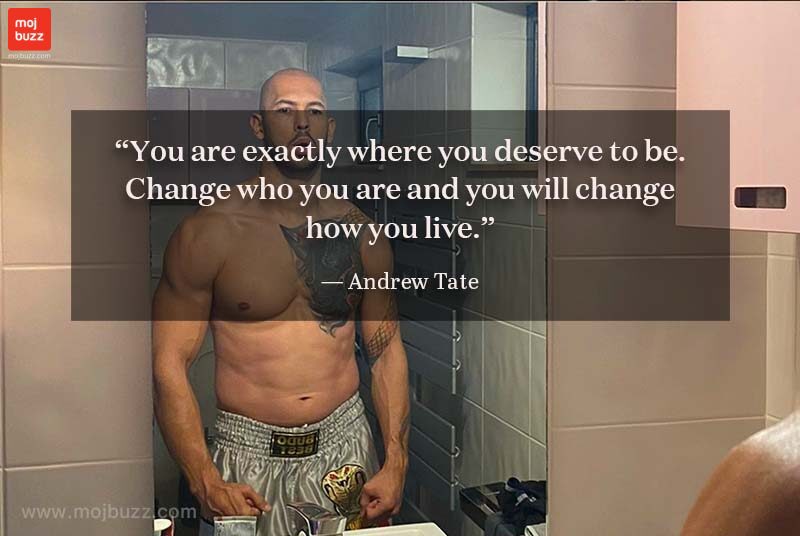 "You are exactly where you deserve to be. Change who you are and you will change how you live."

— Andrew Tate
"If I'm not doing something which is either extremely difficult or extremely stressful, I'm in a perpetual state of crippling boredom."

— Andrew Tate
Also Read: Andrew Tate's $5.2 million Bugatti Chiron and the Ferraris Seized by Romania after Allegations of Sexual Abuse
"The person who goes to the gym every day regardless of how they feel will always beat the person who goes to the gym when they feel like going to the gym."

— Andrew Tate
"The immovable object beats the unstoppable force. The immovable object requires less energy. Efficiency always wins."

— Andrew Tate
"Emotional control isn't a lack of emotion, it's a necessary function of maturity."

— Andrew Tate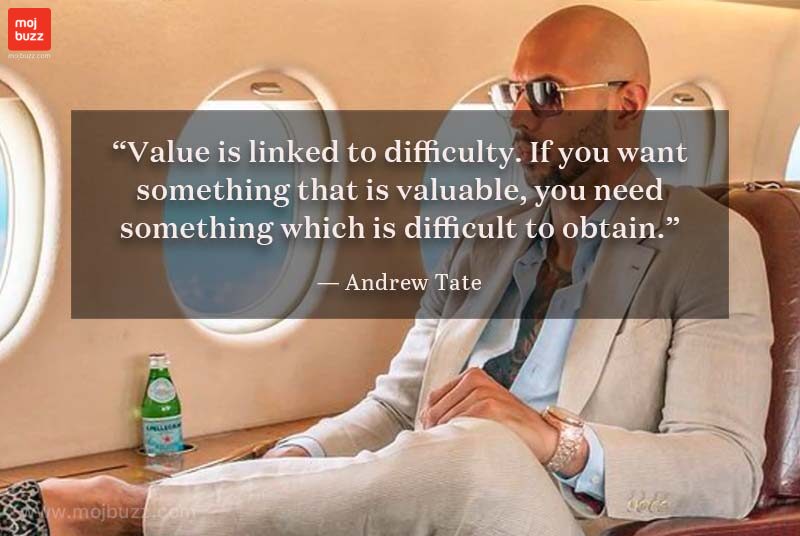 "Value is linked to difficulty. If you want something that is valuable, you need something which is difficult to obtain."

— Andrew Tate
"I could never stop fighting even if I lost 100 fights because I'm not built to live a normal existence."

— Andrew Tate
Also Read: Happy Pongal Festival 2023 – Significance, Story behind Festival of Pongal, Quotes
"Sadness is a warning. You feel it for a reason. Your mind is telling you that you need to work harder."

— Andrew Tate
Follow us on:
to Get Latest News, Entertainment, and Web Series Updates for Free
---
Click here to go to the Homepage
Keep Tuned with mojbuzz.com for more Entertainment